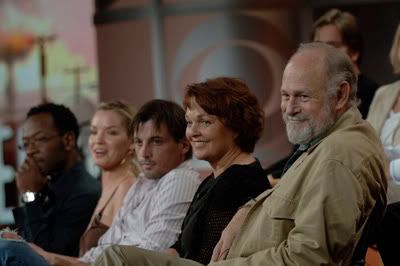 " There's no denying fan
power
. Last year, post-apocalyptic drama series Jericho was pulled off the air after its first season. However, the network responsible for this had to rethink its decision after viewers made their demands known. These die-hard fans decided to do more than create "Save Jericho" websites and send e-mails to the network; they started a campaign that saw boxes containing nuts arriving at CBS' corporate offices (the relevance of the nuts is revealed at the end of Jericho's first season).
As a result, the series was renewed for eight episodes, which will start airing in the United States in February 2008."
"Late-night TV comedian David
Letterman
has reached a deal with the union representing striking screenwriters that will let his show return to the air next week with his writing staff, the union said on Friday.
Letterman, who has kept his CBS "Late Show" off the air and in reruns since November 5 in support of the striking writers, has said he wanted to return with fresh broadcasts on January 2 if his production company, WorldWide Pants, could reach agreement to do so with the Writers Guild of America."