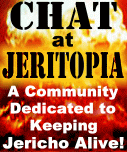 1/5 7-10pm ET - Join drizjr in "the BHRC hour" room to learn more and listen to the weekly broadcast from Blackhills Radio Control. (drizjr)
1/8 10pm ET -
JERITOPIA
SPECIAL EVENT - An evening with Jericho Set Dresser Mike Loomer in "Jennings & Rall" - Come get pumped up for season 2 as Loomer joins us and shares his experiences on the Jericho set and answers fans' questions. (schumi)
1/10 9pm ET - Jerichon Q&A in "Jerichon" - Meet the Guardians of Jericho Board who are planning Jerichon 2008. Ask questions, get answers! Make suggestions, volunteer for committees!
MONDAYS 10pm ET - Chatting with "C" in the "Heather's Classroom". (Cingramaol)
TUESDAYS 1pm ET - Grab a cup of coffee (or you favorite beverage) and come on over to the "Richmond Ranch" for a daytime get-together!! Looking forward to seeing you here!!
WEDNESDAYS 9pm ET - Fan-Fiction Chat in the "Jericho Library" (Nightbird47)
FRIDAYS 9pm ET - J&R ARG round-up chat in "Jennings & Rall"
SATURDAYS 9:30pm ET - Saturday Night Game Fever in the "Black Jack Fairgrounds". Jericho Trivia, Hangman, etc... (Morgan5318)