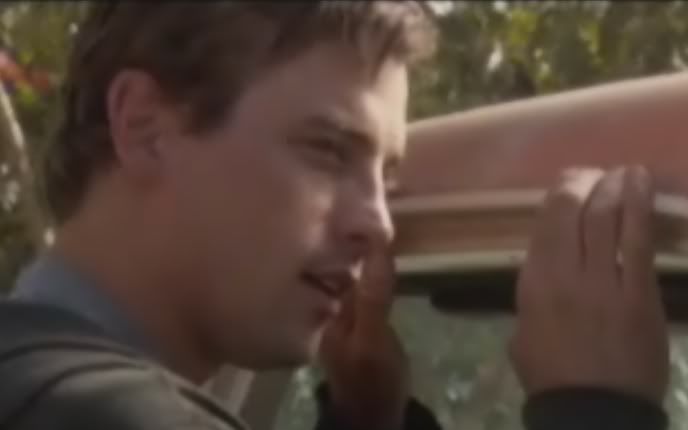 Greetings to all Jericho Fans in Germany
I received this note from a German fan (Ryo) today:
"It's very important for us to see the series on TV. Unlike in the states, there is no DVD release scheduled in Germany."
They need the DVD over there too! Look at his
website
and click on the flag for English.
Also, Greetings to all Jericho fans in Australia.
Here's an article from over there:
"Viewers left in the
dark
"
It says, in part,
"It begs the question, what would it take for network executives to peek out from behind their ratings charts and stop counting their advertising dollars and check out what us viewers have to say?
Surely it shouldn't take a pile of nuts to effect some change . . .
So we here at AdelaideNow are handing the power over to you: if you were in charge of any one given network what programming peeve would you like to see changed?"
I'll ask the same question now. What programming peeve would you like to see changed?
Just leave a comment.
Greetings to fans of Jericho in Canada:
I asked a Canadian fan today what Canadians want when it comes to Jericho. He said, "We want to be counted." This, he said, means by Innertube or Nielsen."
His reasoning is sound. He says, "Montreal is about 45 min from the N.Y. border and we all watch American networks. I watch Jericho on W.C.A.X- Vermont and we see an ad that says.."If you have missed any CBS show, go to CBS.com and watch "...(innertube) When I try, A message pops up and says sorry, It's for U.S. viewers only!!!!! This just ticks me right off!!!"
It would make me mad too because like he adds, "So many Canadian dollars are spent in places such as Plattsburg N.Y. or Burlington VT. There are buses that leave here just to take you shopping in these cities. When it comes to T.V. sorry you don't count!!!! It's not like I am on the other side of the world!!!"
Come on, CBS. They can watch on American TV, buy the products you advertise, and can't be counted or use Innertube. Where do you see "CBS Cares" in that?

Jericho is loved around the world. Imagine having the hardships to see it that our fellow fans do.