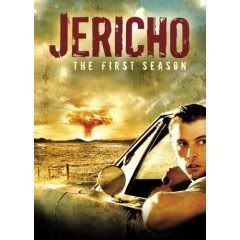 Hey! Nielsen TV Blog Contest
Update
"And since that's really what Hey! Nielsen is for, rewarding those who step outside the box to promote their favourite series, I want everyone who might vote for me to vote for Jane as well."
Thank you all for voting for Jericho Monster! While you're visiting Hey! Nielsen please remember to vote for Cultural Learnings.
Vote
here
for Cultural Learnings.
Vote
here
for JerichoMonster
Jericho Fans Need Answers From CBS
Please sign the petition
here
.
"The Nielsen Co. today
released
its new commercial ratings for the first week of the season on the five broadcast networks. During the week, the commercial ratings numbers used for advertising sales were 1 percent lower than live program ratings, which was the standard used last year."
"The
Nielsen
Co. has launched DemoWatch, a new service that will help advertisers make sure their ads are reaching an age-appropriate audience, reports Mediaweek."
"CBS has been handling Jericho's return rather
poorly
—pre-empted re-runs this summer (like the network didn't know when certain football games were going to be aired!); no off-season promotion; no promises as to when the show might return; virtually no publicity from the network itself as to the DVD release of Season 1.
It's almost as if the network wants Jericho to fail again. Not that it really failed in the first place."