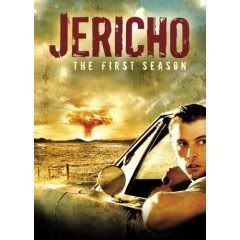 "
Tomorrow
is the next Red-Letter Day for helping to Save Jericho! Don't know what I'm talking about? Well, tomorrow is the release date for Jericho:The First Season on DVD, and just like during the Nuts Campaign, We Need You!...this is just as important as the Nuts Campaign in showing Nina Tassler and the rest of CBS that we are serious in wanting to save our show."
"...don't forget that every sale of this is as good as having a Nielsen Box in your house in sending out a message that just because we won our seven episodes during the Nuts Campaign doesn't mean that we are going to rest on our laurels for getting a third season."
"Customer
Affinity
: How to get it, what to do with it"
"How would you like to be in the recent position of CBS executives, cancelling the drama "Jericho," then receiving 25 tons of peanuts as fans say "nuts" to your decision? Can any company really afford to turn their backs on delighted customers to such an extent that it becomes a news item?"
Greetings from the Guardians of
Jericho
!
Prior to JERICHON 2007, the Guardians of Jericho announced a fan-fic short story contest for which the winner would receive an autographed script for Ep. #22: WHY WE FIGHT. Unfortunately, due to computer difficulties, all but one entry for the contest was lost, and therefore, the contest was canceled. However! One of the first goals for the GoJ was to reinstitute that contest, and thus the GoJ Board is both pleased and proud to once more offer a short story competition to win that signed script.
ANNOUNCING: THE GoJ FAN-FIC SHORT STORY CONTEST
Starting: 01 October 2007 Ending: 15 October 2007
Winner Announced: 31 Oct 2007
Go
here
for details.
#74 in DVD (See
Bestsellers in DVD
)
Popular in these categories: (What's this?)