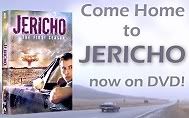 Jericho is ranked # 4 at Hey Nielsen.
Go
here
to leave your opinion.
NEWS: Jericho
Monster
Wins Hey! Nielsen's "Top TV Blog" Contest
"Blogs are the epicenter of online passion, and these TV blogs are taking
passion
to an entirely new level," explained Pete Blackshaw, EVP of Nielsen Online Strategic Services and a member of the HeyNielsen.com team.
"The common thread across the winners is deep, in-depth, spirited - and sometimes controversial - rants and raves about shows, including those which got cancelled."
"The
Nielsen
Company says only 13.7 percent of TV households in the U.S. have High-Definition TVs -- and the high-def tuners necessary to watch HD programming.
Additionally, only 11.3 percent have the sets, the tuners and receive at least one HD network or station, the company said.
The numbers may alarm some advertisers and other companies looking to target the high-def audience. There has been a perception among some that the HDTV' audience is larger due to reports that high-def sets are now in 30 million U.S. homes."


Jericho News From Around The Internet

Watching Jericho by Amber