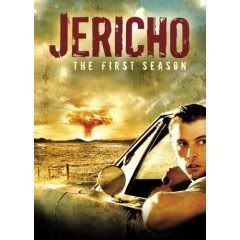 "Watching a favorite show you missed on
television
on the Internet is increasingly popular, two recent studies show.
Horowitz Associates found that 16 percent of high-speed Internet users watched at least one full-length TV program online during a week, double the number from last year. Horowitz just released its report: Broadband Content and Services 2007.
The Nielsen Company found that 25 percent of the 1,599 Americans surveyed in October have watched full episodes of a TV program in the past three months."
"The
sci-fi
fans are a hard-working crowd. Where fans of other genres generally are content to whine a while and then let it go when their favorite shows are canceled, the geeks get busy. Occasionally, their campaigns to save shows succeed.
The best known of these efforts has been the resurrection of "Jericho," which CBS promoted the heck out of last year, then canceled when viewership lagged. The "Jericho" fans campaigned heavily until CBS relented and ordered another season.
"Jericho" begins season two Feb. 12. We know the crazies will be there, but it's on CBS, where a small, loyal following isn't good enough. We'll see if the fans' passion radiates to the more lukewarm among us."